With the ongoing health concerns surrounding COVID-19, many Canadian businesses, both large and small, have felt the impact. Businesses across the country have been forced to scale back their operations or shut down entirely.
At a time like this, you may be worrying about your business' bottom line. To help ensure you're doing everything you can, first ask yourself the tough questions:
How will your business make out during a time of crisis and uncertainty?
Are you prepared to respond when disaster strikes?
How will you recover when it's over?
To help you answer those questions and prepare, we've put together a business continuity planning guide. Using this guide, you can evaluate your preparedness and determine if there are any other policies or processes you should implement.
We also outline considerations for:
The different phases of an emergency response plan
How to sustain and support critical processes
How to assemble a business recovery team
Understanding the different alerts issued by external agencies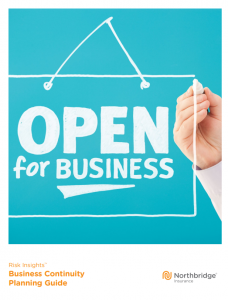 With a solid business continuity plan in place, you can rest easy knowing you've done everything you can to help protect your business. While you can't control every situation, you can control how you and your business will react so that you can get back to business as usual as quickly as possible!
Want to learn more about business continuity?
Download our Business Continuity Planning Guide
Other important resources to help your business during COVID-19:
Government of Canada's support plan for businesses
https://www.canada.ca/en/department-finance/news/2020/03/canadas-covid-19-economic-response-plan-support-for-canadians-and-businesses.html#Support_for_Businesses
Coronavirus disease (COVID-19): Being prepared
https://www.canada.ca/en/public-health/services/diseases/2019-novel-coronavirus-infection/being-prepared.html#a5+