Theft is a quick way to undercut your commercial success – and it can come from all angles. Even when you think your staff always has your business' interests in mind, it's not always the truth. And unfortunately, blind trust can result in big losses.
Employee theft is a reality that impacts small business owners across a variety of industries. You might have visions of masked intruders breaking in your front window or kicking down your door to get at your wares, but the bigger threat could come from within. So, what can you do about it? Plenty.
Plan to curb employee dishonesty as you'd approach other small business risks – with a proactive strategy. Start with the details behind employee theft so you can begin to take steps to try and stop it.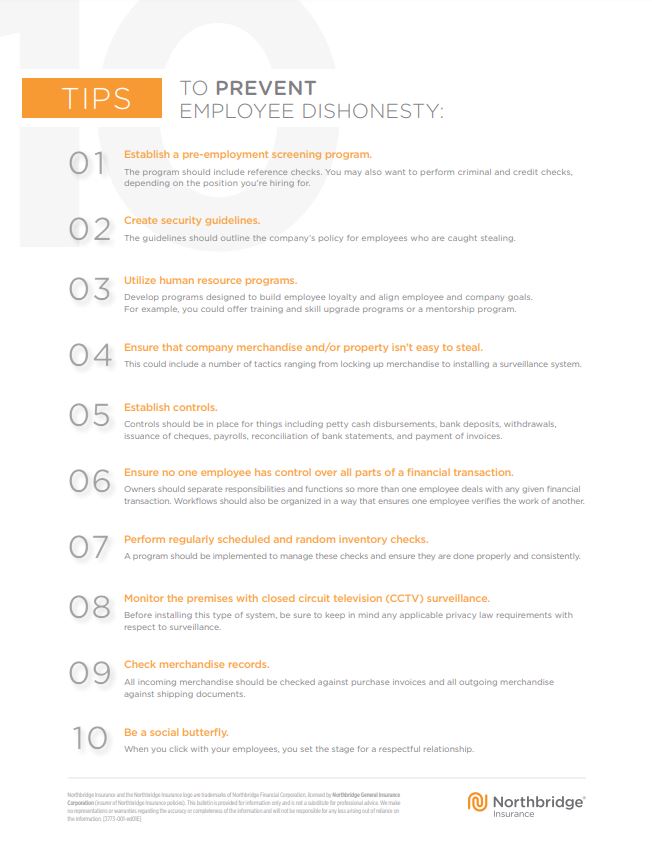 How common is employee theft?
It might be more prevalent than you think. Employee theft and can take many forms, from cash or cargo theft to forgery or data theft. Your business equipment and inventory may be on the line, but criminal elements could also go after client property.
In fact, employee theft costs Canadian businesses about $1.4 billion every year, according to the Retail Council of Canada, a non-profit that represents more than 45,000 retail stores across Canada.
And that's not all — the amount of product stolen by employees may alarm you, too. A 2012 study by the Association of Certified Fraud Examiners found that 25 per cent of internal fraud cases result in losses of a million dollars, on average. And the Retail Council of Canada found that, on average, employees steal about $2,500 in cash or goods from their employer before they're caught, while customers only steal about $175. Normally, the $2,500 isn't stolen all at once but rather over time. The council also believes there are approximately 566,000 employee thefts that go undetected each year.
Employees steal about $2,500 in cash or goods from their employer before they're caught, while customers only steal about $175.
What steps can you take to discourage employee theft?
You're only one person: you can't be everywhere at once, and you won't be able to supervise every activity or business operation. In turn, careful planning and smart preventative measures are your best bet to keep your business safe from internal threats.
Here are 10 tips to help shield your business from an inside job:
Establish a pre-employment screening program.
Check, check, and check again. Your program should include reference checks, but you may also want to perform criminal and credit checks, depending on the position you're hiring for.
Create security guidelines.
Security programs are only effective if they're clearly and comprehensively laid out. These guidelines should outline the company policy for employees who are caught stealing.
Use human resource programs.
Your HR department can be an amazing resource – and not just for hiring staff. Tap into human resources to develop a program to build employee loyalty and align goals across every level of the organization.
Make company merchandise or property difficult to steal.
The bigger the barrier, the less likely thieves will push forward with their plan. Anti-theft tactics could include everything from locking up merchandise to installing a surveillance system.
Establish controls.
The controls should be for petty cash disbursements, bank deposits, withdrawals, issuance of cheques, payrolls, reconciliation of bank statements, and payment of invoices.
Ensure no one employee has control over all parts of a financial transaction.
Organize responsibilities and functions so any given financial transaction is overseen by more than one employee. You can also organize workflow to ensure one employee verifies the work of another.
Perform regularly-scheduled and random inventory checks.
Keeping closer tabs on your stock will help you spot problems early on. Consider implementing a program to manage these inventory checks.
Monitor the premises with closed circuit television (CCTV) surveillance.
If you can afford more extensive security measures, consider video surveillance. If you do opt for CCTV, be sure to keep in mind any applicable privacy law requirements.
Check merchandise records.
All incoming merchandise should be checked against purchase invoices, and all outgoing merchandise against shipping documents.
Be a social butterfly.
When you click with your employees, you set the stage for a respectful relationship. Try to engage with your staff, regularly checking in with genuine care and consideration. You'll soon reap the rewards of a happier workplace!
Click here to download a printable PDF of this tip sheet on preventing employee dishonesty!
Preparation plus protection equals peace of mind
As the old phrase goes, it's better to be safe than sorry. And despite all the precautions you take against employee theft, you may still fall victim to it. That's why it's important to have the appropriate insurance in place: you want to make sure you're covered if something goes wrong. Take a closer look at what our small business insurance policies can do for your business.