Steady downpours, raging rivers, and rising water levels often lead to flooding, and that's a growing concern for businesses. According to the Red Cross, floods are the most common and costly disasters in Canada in terms of property damage. And scientists predict that flooding linked to the impacts of climate change will increase as the 21st century progresses, particularly in coastal areas of the country.
What does this mean for you? Well, the heavy rainfall, rapid melting of snow packs, and other weather-related events that could be just around the corner might land your business (and bottom line) in very deep water.
What should you do before flood season?
A disaster planning response team can be your key to recovery after a flood, but it's always better to avoid the disaster in the first place. A flood preparedness plan is another good move for any business. Start by understanding the potential for flooding, the possible sources, and the impact it can have on your operations – then conduct a close inspection and make some smart upgrades to better protect your business.
10 tips to help you combat flood risk
Here are some specific tips, additions, and procedures to consider including in your flood preparedness plan:
Backflow prevention check valves: Install backflow prevention check valves to stop floodwater from entering at vulnerable points where utility and sewer lines meet the building.
Flood shield: Install watertight barriers, known as flood shields, to prevent the passage of water through doors, windows, ventilation shafts, or other openings.
Watertight walls: Build watertight walls around equipment or work areas within the facility that are particularly susceptible to floodwater damage.
Backup systems: Have backup systems available for use during emergencies, such as portable pumps to remove flood water, alternate power sources (like generators or gasoline-powered pumps), and battery-powered emergency lighting, located well above the high-water mark.
Insurance: Check your insurance policy. Are you insured for flood damage? Business interruption? Lost revenue? If not, contact your insurer to revisit your policy. This is where an insurance broker can help tailor your coverage to your unique set of risks.
Emergency kit: Have a flood emergency kit close at hand. This should include things like a flashlight, radio, copies of insurance documents, spare batteries, vital medicines, blankets, food, dry clothes, a first-aid kit, a mobile phone, and some cash.
Disaster plan: Include a flood disaster plan in your health and safety plan. Identify evacuation routes and organize emergency drills for staff. Consider employees who may need special assistance in the event of a flood due to mobility issues or another potential complication.
Contact list: Make a list of important employee, vendor, and utility contact details in the event of an evacuation.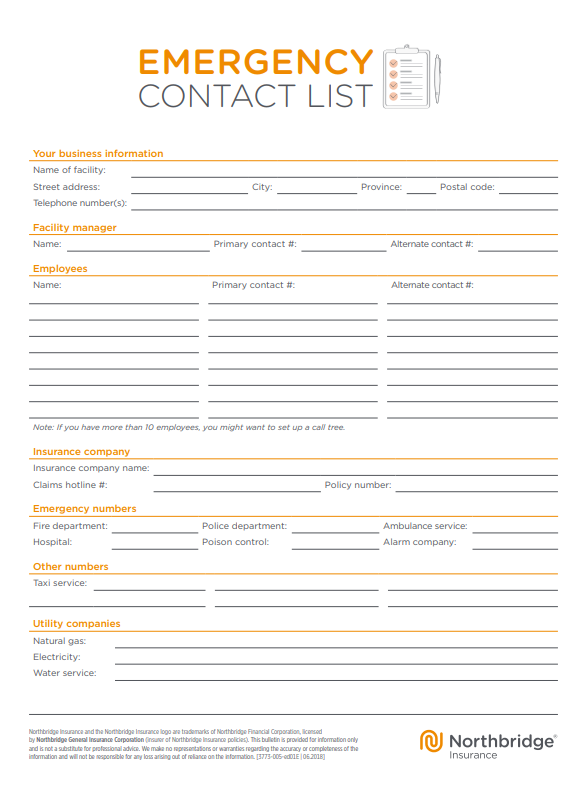 Our emergency contact template can help you plan. Download it here!
Backup documentation: Ensure you have copies of important documentation that's stored offsite for safe keeping and easy access.
Moving operations: Consider whether it's possible to move key operations, such as shipping and receiving or customer services, to another location if your building is damaged. Identify people who can help you before, during, and after a flood.
Get everyone on board
It's a lot easier to bail out a boat when you have some helpers. Take the time to talk through your flood preparation – and response plan – with all your staff, and be sure to assign specific tasks to specific people before you find yourself dealing with an emergency. The faster your team can respond, the better your chances of limiting damage and ensuring the safety of your people. Good planning and preparation is priceless when it comes to business continuity.
To learn more risk mitigation tips for your business, visit our Resources & FAQ page today!