Uh oh. A power failure has just shut down your shop during a crucial production run. Or maybe a midnight flood has left your office three feet underwater, or an employee accidentally unleashes a computer virus. What's your next move?
Emergencies are urgent by nature, and after the heart palpitations subside, you'll need to spring into action. That's where the right tool – like a detailed emergency contact list – can make a big difference. Fortunately, our downloadable template will help you create the reference your business needs.
What to include on your list?
Your business information should be the first entry, including your company name, address, location, and phone number. This information needs to be accessible, so when you're speaking with emergency services, you can get the details sorted right away.
Ready to get started? Download our emergency contact list template!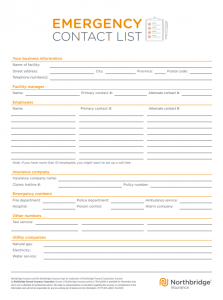 Of course, there's a lot more to add to an emergency contact list other than your business information, regardless of the type or size of your business. Consider these crucial sections:
Manager and employee info
Problem with your building? Your landlord or facility manager can be an important ally when it comes to physical mishaps or damage in your workspace. Be sure to include a couple of forms of contact information – after all, if you can't catch them right away, you could lose valuable recovery time.
If the emergency involves an employee, their emergency contacts will need to be alerted, too. Including a contact number and email address – plus an emergency contact for each employee – is a good idea.
Emergency service numbers
911 is an obvious go-to emergency number, but it's not the only one that deserves a spot on your emergency contact list. Consider adding the numbers for poison control, animal control, your alarm system company, and any other industry-specific services you think you might need if things go awry.
Insurance info
When your business is at risk of a loss (or if one has already occurred), you'll need to contact your insurer as soon as possible. Be sure to include the name of your insurance company, your policy number, and the direct number to their claims team to start the claims process.
If you're not confident that your current policy addresses your risks, check out our list of the most common types of business insurance.
Utility Companies
Utilities probably play a central role in your business operations, so it's important to keep your utility companies in the loop. Include numbers for gas, electricity, and water service providers on your list, since these contacts can help you minimize damages if you experience something like a gas leak or a burst pipe.
Need some help finalizing your list? Consider what our Risk Services specialists can offer your business.
Other useful contacts
You may need to contact other services in the wake of an emergency, like locksmiths, taxi companies, or tow trucks. Play it safe and include all relevant services in this master list, so you won't have to frantically track the numbers down when the time comes.
Plan ahead to help protect your business
Losses are tough, and recovery can be a long road. But you're not alone! The right business insurance policy can help with everything from the immediate cleanup, to legal issues that arise after the dust settles. The best way to get a well-tailored policy for your business is to work with a broker who truly understands your industry. Find a broker in your area today!