TORONTO, July 27, 2023 –Average insured catastrophic losses in Canada increased by over 370% in 2021 compared to average losses between 1983 and 2008.
To help businesses plan for this uptake in severe weather, Northbridge Insurance, in partnership with the Institute for Catastrophic Loss Reduction (ICLR), today released a whitepaper that highlights the different types of natural hazards and how businesses can prepare for them.
The 'new normal' for average insured catastrophic losses in Canada exceeds $2 billion annually, according to Catastrophe Indices and Quantification (CatIQ) Inc. In comparison, between 1983 and 2008, Canadian insurers averaged only $422 million a year in severe weather-related losses. The cost is expected to increase with the impacts of climate change — and no business or industry is immune.
One of the most significant natural hazards to be aware of is wildfires. Businesses also face risks from floods, winter storms, wind events like tornadoes and hurricanes, and hail.
With an increase in natural hazards, there's a need to develop proactive solutions to increase awareness of the risks, build long-term resiliency, and prevent or mitigate losses — including loss of life, as well as damage to property and disruption to businesses. This requires industries, associations, academia, and government to work together, along with homeowners, business owners, builders, developers, and other stakeholders.
It's especially important for all business owners to educate themselves on the risks they may face from extreme weather events and the best ways to protect themselves.
Download our whitepaper about preparing your business for extreme weather events and earthquakes.
About Northbridge Insurance
Northbridge Insurance is a leading Canadian commercial insurer. Working with our broker partners, we aim to help businesses of all sizes. We use our in-depth industry expertise to help medium and large businesses operate more safely, so they can worry less and focus on opportunities. We also work to provide small businesses with insurance protection that's responsive, simple, and flexible. Visit us at www.northbridgeinsurance.ca to learn more.
About the Institute for Catastrophic Loss Reduction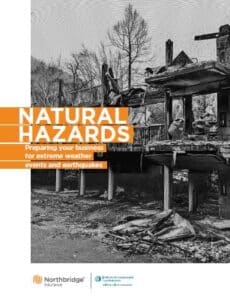 Established in 1997 by Canada's property and casualty insurers, the Institute for Catastrophic Loss Reduction is an independent, not-for-profit research institute based in Toronto and at Western University in London, Canada. The Institute is a founding member of the Global Alliance of Disaster Research Institutes. The Institute's research staff are internationally recognized for pioneering work in a number of fields including wind and seismic engineering, atmospheric sciences, water resources engineering and economics. Multi-disciplined research is a foundation for the Institute's work to build communities more resilient to disasters.
For further information, please contact:
Ellen Brait
Manager, Content Marketing and Communications
Northbridge Insurance
[email protected]