TORONTO, June 4, 2020 – Northbridge Insurance today released a whitepaper that highlights the top risks facing those in the construction industry and ways to mitigate them, including best practices for infection control on-site to prevent the spread of COVID-19.
Whether working in residential, commercial, institutional, or infrastructure construction, the risks vary in size and complexity, and they can evolve throughout a project. Risk management, as well as proper policies and procedures, can help to avoid many of these risks, hazards, and accidents.
"The pandemic has forced everyone to move into an unprecedented space where the health of every worker on projects is paramount, so we need to work far more collaboratively than before," says Fred Muldowney-Brooks, Vice-President of Risk Services at Northbridge. "Hazards and issues that exist on construction projects have not gone away; they have become more complex. The risk management process along with innovative technology solutions will need to be a focus if these hazards and issues are to be addressed and controlled."
Download our whitepaper on Risks in the Construction Industry.
Key findings: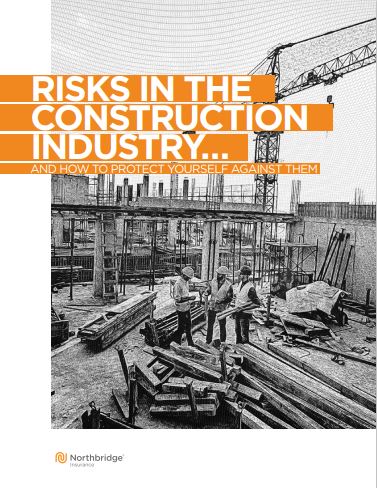 According to Northbridge Insurance's internal claims data the top loss causes for property in 2019 were water, fire, and theft—the same top three as in 2018. The average severity of water damage was $129,000, while average fire damage was $169,000 and average theft was $23,000. But these are only averages; the highest claim for water damage in 2019, for example, was over $1.5 million.
With construction sites re-opening across the country, Northbridge Insurance hopes to help those in the construction industry update their safety policies to combat the spread of COVID-19 and keep other key risks at top of mind to avoid costly claims when possible.
About Northbridge Insurance
Northbridge Insurance is a leading Canadian commercial insurer. Working with our broker partners, we aim to help businesses of all sizes. We use our in-depth industry expertise to help medium and large businesses operate more safely, so they can worry less and focus on opportunities. We also work to provide small businesses with insurance protection that's responsive, simple, and flexible. Visit us at www.northbridgeinsurance.ca to learn more.
For further information, please contact:
Emily McCauley
Manager, Content and Communications
Northbridge Insurance
[email protected]