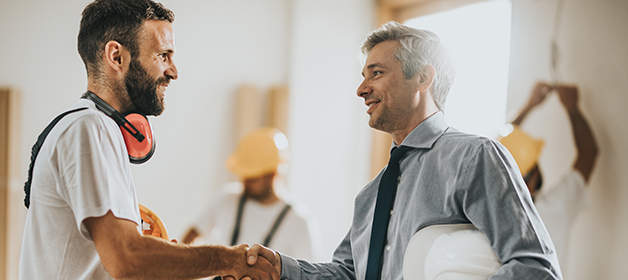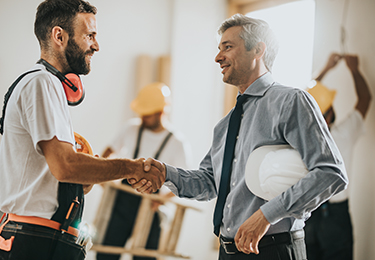 Business is complicated, and big projects call for broader coverage. Surety is designed to help keep you, your client, and project-related resources protected in case big problems arise before or during a project.
Who needs surety, and how does it work?​
The project owner issues a contract to the contractor, who pays a premium to the surety, who then guarantees a bond to the project owner to be used under certain circumstances. In this way, all three parties are connected via the surety bond, which can take different forms according to the nature of the project.
If your construction company fails to fulfill your part of the agreed-upon contract, the surety would step in to reimburse your client for any outstanding expenses related to the project. This could happen in the bidding phase or after you've won the contract and started work. In this way, the surety bond protects the client against financial loss.
It's important to remember that surety isn't insurance: it behaves more like a credit instrument for your business and protection for your client. In fact, surety and business insurance are both key risk management tools, protecting your company and your clients from financial and legal trouble.
What kind of surety do you need?
Big projects can bring big risk – and big expectations. Even if your company isn't required to be bonded for a given project, your client might ask that you obtain a surety bond, so they know their investment is protected.
Understanding that you need surety is the first step. Next, you'll have to decide what type of surety best suits your venture.
Typically, construction projects requiring contract surety are substantial in size and complexity. The project owner is often a government body who needs more assurance that the job will be completed according to the contract.
Contractor's Insurance is important, but you may need more to work on certain projects. A contract bond is a guarantee from Northbridge that you, the contractor, will abide by the terms of your contract. 
Contract surety bonds cover construction projects in two ways, they guarantee that the project will be completed, and that all suppliers and subcontractors will be paid. But since surety needs can differ according to the project, you need to consider what role surety should play in your business.
We have a selection of contract surety bonds, including:
Commercial surety bonds cover most projects that don't fall within construction and contracting, such as those in the consumer and business services industry. In these cases, our surety bonds guarantee that the principal (either a business or an individual) will comply with the terms of regulations, governing acts, or by-laws as they relate to certain business activities.
We offer several types of commercial surety bonds, including:
When it comes to construction projects, financing is just one step in the process. All parties will want to ensure that any funds involved will be used for appropriate work-related expenses, as laid out in the construction project contract.
Funds control is a way to do just that – manage the flow of money to the right parties at the right time over the course of the project.
What can our surety experts do for you?
Surety is an important product, but it can also cause confusion. We're here to communicate, clarify, and coordinate the surety process – so you can get on with business.
Your Northbridge Insurance policy offers three key benefits:
Our seasoned surety team has the information and expertise necessary to determine the appropriate bonding solution for you. And as the first Canadian insurer to offer in-house funds control services, we can bring know-how that's not available anywhere else.
Unlike some other surety companies, Northbridge Insurance doesn't play favourites – we work with enterprises of all sizes. Rather than serve a small market segment, we offer our product to all types of companies, in every part of Canada, with no minimum amount of equity or working capital required.
With a local surety team in each Canadian region, we can make timely decisions on your schedule. That means more personalized service and less waiting time for our customers, so you can get the protection you need, when you need it.
Northbridge Insurance can meet the surety needs of new and tenured contractors across Canada. Ready to get started?