Your shop and your products certainly aren't designed to cause damage or injury, but accidents happen, and when they do, they can bring expensive proceedings that drain your time, energy, and bank account. That is, unless you have the right retail insurance policy to offer some professional and financial support.
No matter how safely and carefully you run your business, retail liability issues can pop up when you least expect them. Here's a primer on retail liability risk, and how the right coverage can support your business goals. Ready for more? Click on our white paper below for a deeper dive into retail liability risk and management strategies.
What's retail liability, and why should I care?
Essentially, liability is the legally recognized responsibility for damages done to other parties. It can come in several forms, and it can become a serious problem in the blink of an eye.
While your customers are your source of revenue, they can also be the source of your risk. After all, anyone who interacts with your business could potentially file a legal claim against you if they think your business is to blame for an unhappy incident that results in damage or injury. Even if you're sure you did nothing wrong, you're not out of the woods – the fact that the affected party believes you're at fault is enough to force you to face a lawsuit (and all the expenses involved).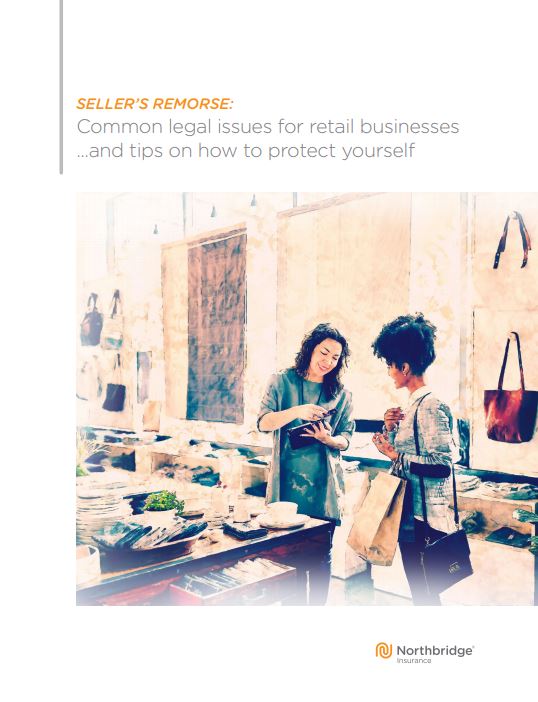 What are the most common retail liability insurance claims?
There are three types of liability claims that are common for retail businesses:
1. Bodily injury
The risk of physical injury (third-party bodily injury is the technical term) is an important one to consider, because one small event could have huge repercussions on your business. Consider what could happen if a visitor to your property (a customer, courier, maintenance personnel, or anyone really) slipped on your front step, fell, and broke their leg: aside from leaving with a very poor shopping experience, they could decide to bring a lawsuit against your business.
Tripping hazards on or around your premises are just some of the potential issues that could lead to a claim. Do you sell food or drink? That can bring about a whole new set of hazards. In fact, you could face the same bodily injury liability risks if you happen to be conducting your business away from your brick and mortar shop, too.
2. Property damage
 Injury is a concern, but so is property damage. After all, your product carries an implicit promise that it won't damage, destroy, or otherwise adversely affect your customers' property. If there's a defect or oversight that causes a problem during use, you could be on the line for repair costs – and depending on the nature of the damage, those can be significant.
3. Cyber liability
Digital risk is growing, and your liability exposure grows with it. Cyber liability refers to a variety of specific threats that could cripple your business and your professional reputation, ranging from data theft to privacy breaches.
Think your data backup strategy is keeping everything safe and sound? Don't be too sure: these days, security is a multi-step process that requires an investment of time and energy, not to mention some professional assistance. Since new hacking techniques and tools are popping up all the time, you've got to be alert and aware of your risk (and your best tools to mitigate it).
I don't have retail insurance – what's the worst that can happen?
Retail liability coverage might not be at the top of your to-do list, but there are a few good reasons to make it a business priority. Here are some unfortunate potential consequences to being underinsured:
You foot the bill for your legal services. Dealing with an irate customer isn't a happy experience, but it can get a lot worse when they bring an expensive lawsuit to you and you have no insurance policy to help cover those costs.
 You can't secure the contract you're after. Hoping to lease a prime storefront location? Maybe you're in the final stages of signing with a large wholesaler to take your business to the next level. In either case, your contact may expect you to have adequate liability insurance before they'll seal the deal.
 No proof of insurance? No event presence. Just as a potential partner could shy away if you're uninsured, you could also be denied entry to tradeshows and events. Many venues require that all vendors provide a certificate of insurance to prove they're adequately covered in case of a mishap.
 Unforeseen complications offsite. When your business involves delivery, installation, or other offsite services, you'll need to consider how far your current coverage will travel with you. Personal policies often fall short when you take your business on the road.
Your next steps
If you want to keep your options open in terms of potentially lucrative partnerships and events while reducing the likelihood of shouldering the burden of a lawsuit and avoiding a business interruption, it's time to evaluate your retail liability insurance needs.
First, dig a bit deeper into retail liability and some strategies to handle the risk. Then, you can get a clear picture of how, when, and where the right insurance coverage can factor into your proactive plan. Check out our white paper on the topic to get started, and discover the advantages of a Northbridge retail liability policy.