Cargo theft, formally referred to as Cargo crime, is on the rise across North America. In Canada, cargo crime has been estimated to be a $5-billion problem. It's particularly concentrated in Mississauga, Brampton, and Montreal – the top three Canadian cities that have been deemed "cargo crime hotspots."
In 2014, the most stolen types of cargo were Grocery / Food / Personal Hygiene, Automotive, and Construction Materials in Canada.
In the same year at Northbridge, there were a total of 25 cargo claims, which averaged to about $29,676 per claim (see below). Although the total claim count has trended down for us over the last few years, the average claim cost has been fluctuating.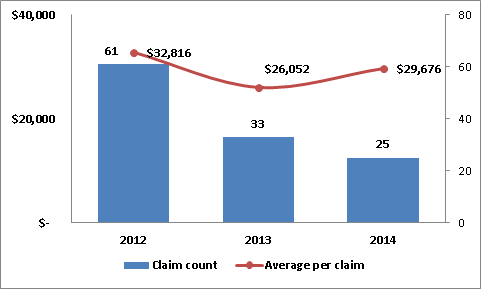 Evan Di Bella, National Director, Claims Business Support, Northbridge, shared his insights. "We have seen a decrease in the amount of cargo theft over the last 3 years at Northbridge. We launched a multi-faceted approach several years ago, that appears to be working. Essentially, better underwriting guidelines around where trailers are parked at secure parking facilities, education with industry groups and better awareness, and improved recoveries based on better police involvement/claims handling practices are definitely working to lessen the impact to NB. Unfortunately, it appears that the industry, overall, is seeing the opposite trend."
As Evan alluded, for the broader trucking industry, cargo crime remains a very serious issue and drivers and fleet owners should be cognizant of the fact that thieves are becoming increasingly more organized and well-informed. According to FreightWatch, 90% of cargo thefts occur when trucks are stationary or unattended between the hours of 10:00 PM and 4:00 AM. Furthermore, 87% of thefts are due to a lack of secured parking!
Unfortunately, the problem of cargo crime extends much further than just being a major source of loss for trucking businesses. Unrestricted crime is supporting a black market economy and facilitating funding for criminal enterprises in drug trade, gun trade, and terrorist fundraising – which ultimately jeopardize the safety and security of the public.
Thankfully, the Canadian Trucking Alliance (CTA) and IBC are actively tackling this problem. They're increasing their level of cooperation with law enforcement officials (i.e. RCMP, US Border Patrol, OPP, etc.), retailers, and manufacturers to launch a 24/7 online Cargo Theft Database. In addition, continued information-sharing across companies and participation in the IBC's Cargo Theft Program is being encouraged.