There's no doubt about it: auto insurance claims aren't fun. The process can be long and frustrating, and with every form you fill out or call you make, you're reminded of your loss. But a fender bender shouldn't turn your life upside down – and our Express Claim service is here to help make sure it doesn't.
Learn more about the process in our infographic!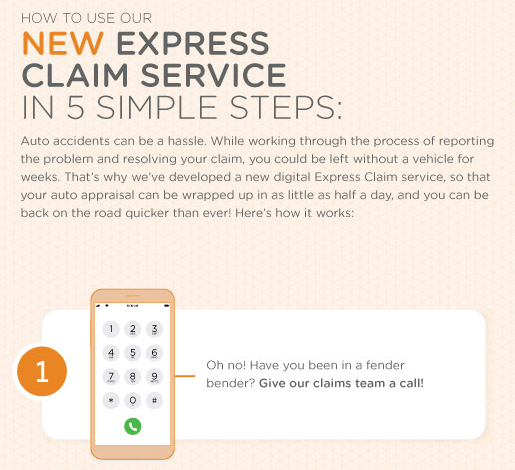 What's Express Claim all about?
Express Claim is an online appraisal process for auto insurance claims. We've developed a program that can dramatically reduce the time and effort involved: with a half-day turnaround on appraisals, small and large losses can be processed quickly, and you can receive your payment sooner.
The best thing about Express Claim? The experience is completely digital, so it makes things easier for everyone involved. It begins with a call to our claims team, and from then on, all you need is your smartphone (and access to mobile data or Wi-Fi) to help your adjuster produce an appraisal, process your claim, and get your settlement started.
How Express Claim works
It all starts with a call to the Northbridge claims team following your auto accident. If the damage is minor and no one was hurt, you could be eligible for Express Claim.
All you need is your smartphone and access to mobile data or Wi-Fi to help your adjuster produce an appraisal, process your claim, and get your settlement started.
When you call us to report your claim, an adjuster will text or email a link to your phone. This will connect you to the Express Claim platform, and this is where you'll share all the necessary information.
Your next step will be to open the link and snap some photos of the damage to your vehicle – along with the vehicle's VIN number, license plate number, odometer, and any other images that may be needed – and tap to send these directly to your claims adjuster in real time.
The photos will allow us to start work on your appraisal right away, and while that's being prepared, your adjuster can help connect you with a preferred collision repair centre and arrange for a rental, if you need it.
Faster turnaround makes for a better experience
We're committed to delivering Express Claim appraisals within half a day, and without all the back and forth that the traditional claims process can require. You won't need to visit appraisers or inspection shops, and you can electronically sign any documents we may need to process the claim. There's no app to download and you can even wait to call us back when you have access to Wi-Fi. Everything is done at your convenience, and in real time.
"It was perfect, easy and quick. I would definitely use it again."
"My adjuster did a good job explaining how to do it. I would use it again. It saves on having to take the time to go get an appraisal."
Together with our 24/7 claims service and extensive industry expertise, our Express Claim service helps take the stress, effort, and waiting time out of the auto claim process.
Have questions? We've got answers!
Wondering how, when, and why to use our Express Claim service? Visit our claims page to find out more about our claims process and get contact information to connect with our experts.