Cargo theft in Canada is a continuing threat, but carriers who stay in the know can gain an advantage over highway bandits. Last year, we reported on some of the most popular types of commodities, places, and times of year for cargo thieves. So, what's changed this year?
Northbridge has compiled data from 2017 through the first half of 2018 on types of cargo loads that are being stolen, plus changing patterns that you need to be aware of. Read on for some useful insight into current cargo theft trends across Canada – and what our experts think that could mean for your transportation and logistics company.
Want to learn more? Our cargo theft white paper takes a deep dive into the trends and solutions that could affect your business.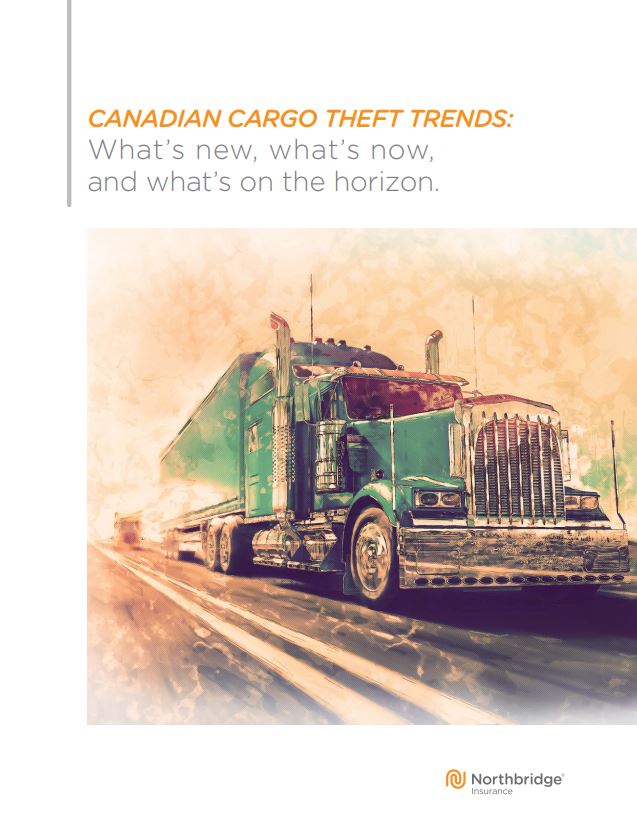 Theft may be down – but is your risk?
In their recent report on cargo theft trends, CargoNet notes a 23% year over year drop in cargo theft events across North America. However, this statistic may not tell the whole story. After all, specific regions experience different patterns, and when it comes to Canadian cargo, there are some distinct features in the theft and recovery landscape.
The reality is that, even if cargo theft in Canada is down, not all carriers will necessarily enjoy a lower risk of being robbed. As usual, certain types of cargo tend to tempt thieves more than other types. Moreover, where you transport can play a huge role in your level of risk.
What types of cargo are most at risk?
Some things never change…and other things do. Mixed load cargo (an amalgamation of different types of products) always seems to be high on the list for thieves, according to Garry Robertson, resident expert and Manager of Northbridge's claims Special Investigations Unit. However, other types of cargo seem to be garnering more attention these days, too.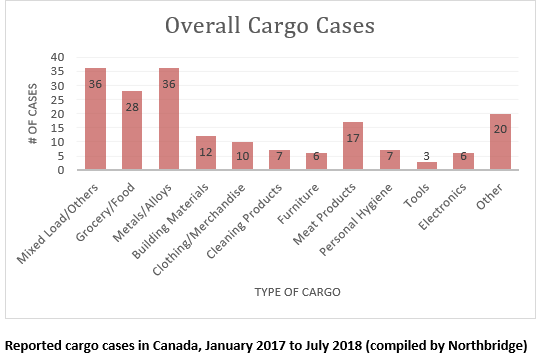 Aside from mixed loads, grocery and food products are notoriously tempting for thieves, considering how difficult they are to track and how relatively easy they are to resell. But Garry points out that one type of food in particular is rising in popularity, especially in Southern Ontario: meat products. As for the Eastern Ontario and Western Quebec region, auto parts and metal are attracting more cargo thieves this year. And in the west, lumber loads have become targets.
Where is cargo being stolen?
Cargo thieves operate across the country, but cargo theft rates rely on reported cases. This means that the numbers aren't always accurately reflective of regional patterns. However, with an increase in reporting in recent years, numbers are becoming more aligned with the reality of cargo theft in each province. The map below indicates the distribution of reported cargo theft in Canada.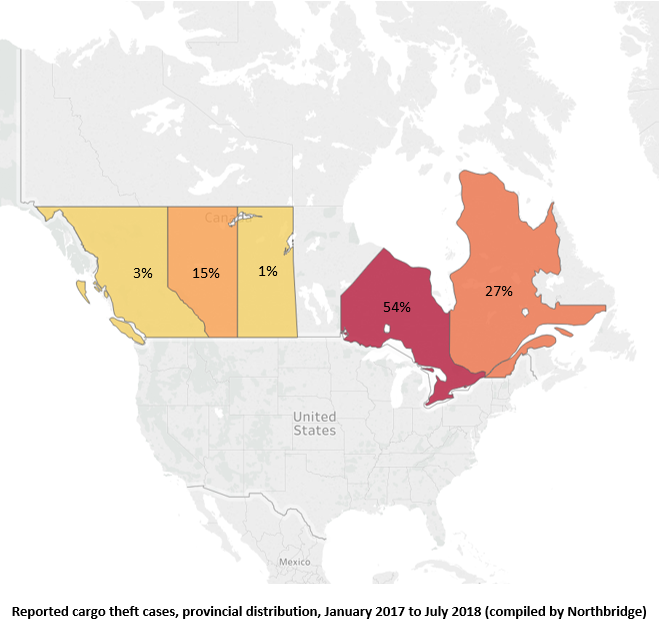 So, while cargo is stolen across the nation, the highest concentration of reported cargo theft is in Ontario – with 54% of reported thefts – and certain regions within the province are especially vulnerable. The following charts outline where most reports occur: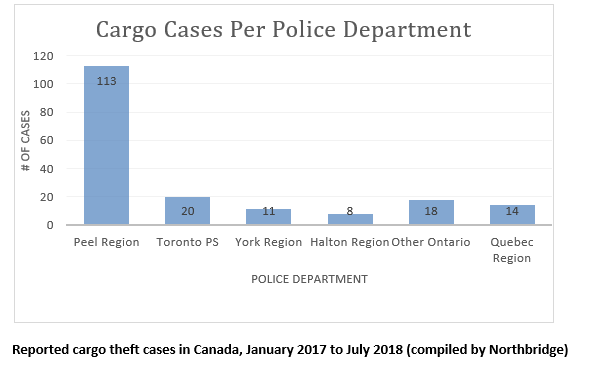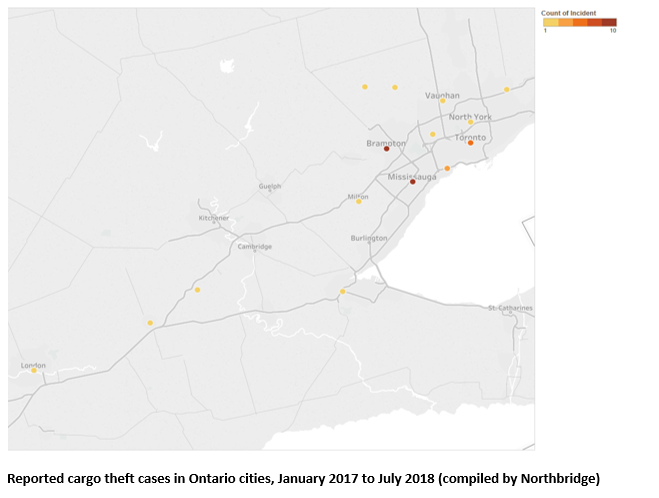 Peel region continues to lead the pack in terms of most thefts reported, but Garry warns that the uptick in activity in the city of Toronto may point to a new criminal focus. Given that Toronto is a Less-Than-Truckload (LTL) centre, and more mixed loads are disappearing from this area, there's a good possibility that smaller loads of cargo are being stolen once they have been transferred from the large truck to delivery vehicles that will take them to local destinations.
How is cargo theft in Canada changing?
While there are still gaps in local reporting, our data indicates that cargo theft in Canada continues to be a serious threat, and carriers across the country are vulnerable. A surge in stolen meat, lumber, and metal parts cargo in specific regions may shed light on larger, more sophisticated criminal outfits operating – and growing – in certain areas.
Although this info is enough to worry carriers of all sizes, fear not – our cargo theft experts can shed light on the matter and help you shore up your cargo safety strategy. Stay tuned to our blog for part two of our inaugural 2018 cargo theft discussion, when Garry Robertson will offer some key insights and useful advice that you can apply directly to your daily risk management.
Reported cargo cases in Canada, January 2017 to July 2018, by type of cargo:
Mixed load/Others: 36 cases.
Grocery/Food: 28 cases.
Metals/Alloys: 36 cases.
Building Materials: 12 cases.
Clothing/Merchandise: 10 cases.
Cleaning products: 7 cases.
Furniture: 6 cases.
Meat Products: 17 cases.
Personal Hygiene: 7 cases.
Tools: 3 cases.
Electronics: 6 cases.
Other: 20 cases.
Reported cargo theft cases in Canada, January 2017 to July 2018, map of provincial distribution.
Quebec: 27 percent.
Ontario: 54 percent.
Saskatchewan: 1 percent.
Alberta: 15 percent.
British Colombia: 3 percent.
Reported cargo theft cases in Canada, January 2017 to July 2018, by police department.
Peel Region: 113 cases.
Toronto: 20 cases.
York Region: 11 cases.
Halton Region: 8 cases.
Other Ontario: 18 cases.
Quebec Region: 14 cases.
Reported cargo theft cases in Ontario cities, January 2017 to July 2018, Ontario city and regional distribution.
London: 1 incident.
Milton: 1 incident.
Mississauga: 10+ incidents.
Brampton: 10+ incidents.
Toronto: 5+ incidents.
North York: 1 incident.
Vaughan: 1 incident.
East of Toronto: 1 incident.
West of Cambridge: 2 incidents.