You're a safe driver, but you can't control road conditions or how other vehicles behave out there. Each carrier is responsible for keeping their vehicles in good shape and their drivers well-trained, but crashes can (and do) still happen. In fact, one in five road crashes in Ontario involve large commercial vehicles, and while the truck driver may walk away unharmed, the outcome for the drivers and passengers in the other vehicles is often tragic.
Many factors could lead to a truck collision or rollover, but a few specific measures will help drivers respond more effectively in the wake of the incident. Read on for a breakdown of common causes of transport truck collisions, along with tips on how best to handle the immediate aftermath of the event. And be sure to download our driver's collision report form – you can keep it in your vehicle to help stay on track and in control if a collision occurs.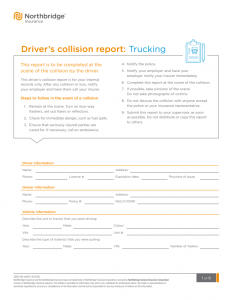 What's causing truck collisions on Canadian roads?
Not all truck collisions can be traced to one glaring error or a major malfunction. In many cases, a moment of miscommunication or an unexpected event that forces a reaction can result in an incident. However, there are a couple of very preventable causes that should not be ignored.
Poor vehicle condition
According to Canadian Occupational Safety, 344 collisions between July 2014 and June 2017 involved defective transport trucks.
Trucks are complex machines, and it's no wonder that some parts wear out or break more quickly than others. Anything from a damaged axle or faulty brakes to unsecured loads and blown tires can result in a catastrophic highway event. Is it time to improve your pre-trip inspections?
Inattention
A recent CTV news article points out three fatal collisions in the summer of 2017 that can be traced directly to the inattention of the truck driver. In each case, the truck failed to slow down as it approached a construction zone where other traffic had slowed or stopped.
Experts acknowledge that not all truck drivers pose a safety risk (many are among the safest drivers out there!) but since their heavy vehicles carry a greater potential to harm, truck drivers also have a greater responsibility when behind the wheel. Fatigue and inattention have the potential to become weapons on the road.
344 collisions between July 2014 and June 2017 involved defective transport trucks.
After the event: quick response and a collision report
Collisions are traumatic, and the aftermath can be chaotic. Without a clear head and a calm demeanor, you may forget some key details that could complicate things in the days ahead. Get to know what info to record and what steps to take from the very start, keeping in mind some important points, like:
Don't make things worse
First and foremost, remain at the scene of the incident. Next, take some steps to make the scene a bit safer for everyone, like setting out flares or reflectors, checking for fuel spills, and ensuring any injured parties are tended to. You don't have to solve all the problems, just try to prevent more from occurring until help arrives.
Communicate wisely
While you probably don't want to chat openly and continually with everyone at the scene, there are a few people to speak with right away. First, notify police, and if anyone is injured, call an ambulance. Once help is on the way, notify your employer and have them call your insurance company. Aside from the police and your insurance representative, avoid discussing details of the collision with anyone.
Fill out a collision report right away
It's much easier to gather crucial info right after the incident occurs, so complete a collision report at the scene. You can also have anyone who witnessed the collision jot down their details for you to include in your collision report, and then you can take some photos of the scene (but not of any victims).
Dealing with a collision is never easy, but it can be more manageable when you have a good support team at the ready. If your company could use more risk management expertise and a tailored insurance policy, learn how we can help your operation.